Complete Oxygen Lances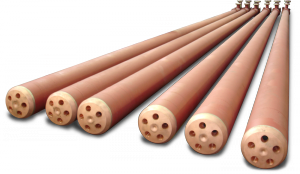 Maximum precision for maximum output
We produce and deliver ready-to-install oxygen lances for all common steelworks processes (LD or BOP process, Sonderfrischeverfahren, and all areas of secondary steel making).
Benefit from our expertise:
A one-stop supplier

Longer service lives thanks to customer-specific design and production

Low maintenance requirements mean reduced costs
Product details
Based on your process data, we develop and design a ready-to-install oxygen lance for precisely your application using modern CAD and simulation software. We provide you with complete oxygen lances characterised in particular by their long service lives and supplemented by our lance heads, which are precisely optimised for your production parameters. Both the lance itself and the lance head are designed and produced in such a way that they allow easy, modular replacement of the production-related components. This reduces your maintenance outlay and therefore your operating costs.