Forged and Cast Tuyeres for Blast Furnaces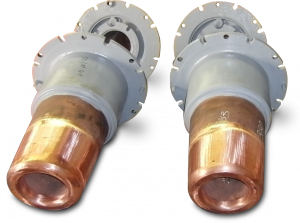 A fresh breeze in your furnace
Tuyeres are used in blast furnaces or cupola furnaces and feed hot air into the furnace via nozzle-like apertures in order to aid the smelting process.
Benefit from our expertise:
Different production variants optimised for your application

Optimum thermal conductivity

Special platings for a long service life
Product details
Depending on the application and customer request, we are able to provide you with forged tuyeres, including cast components (e.g. tuyère covers). Decades of experience in the design, construction and manufacture of tuyeres allow us to offer you the optimum variety for your specific application.
Within the tuyeres, there is a cooling-water system in the form of either a single- or double-chamber system. We can manufacture both varieties.
The use of a seamlessly forged tuyère opening, which is produced on a flow-forming machine developed specially in the Saar-Metall-Gruppe, allows the complete avoidance of weld seams and the associated dangers in our tuyeres.
In order to extend their service lives, the tuyeres can be charged with various coatings (e.g. heat-resistant steels, ceramics or even pure iron). The selection of a suitable coating is strongly dependent on the respective local conditions. Please contact us – with their many years of expertise, our specialists will develop suitable proposals for your specific application with a view to reducing repair costs and downtime.
In the case of smelting facilities that are planned to be in operation for a long period (especially large blast furnaces), the tuyeres are often inserted into cooling rings so that they are easy to replace in the event of damage. We are of course also able to provide and supply you with these cooling rings.
Different tuyeres for individual conditions – we advise you and design and produce the tuyeres specially for your application.